Like a Girl - Run Jump Throw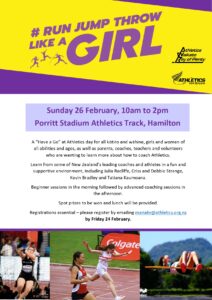 Athletics Waikato Bay of Plenty in conjunction with Mariah Ririnui, Coaching Coordinator for Athletics NZ, are holding a Run Jump Throw Like a Girl day on Sunday 26 February at Porritt Stadium, starting at 10am and scheduled to finish at 2pm. A great opportunity not to be missed!
A confirmed programme will be available soon but here is a brief outline on how the event will run.
The day is broken up into two main sessions with participants rotating through events.
All morning sessions are Level 1, targeted at teaching basic skills to beginner coaches and athletes aged 8-11, unless otherwise stated. 25 minutes long with 5 minutes for session change.
All afternoon sessions are Level 2+, target age 12+ and more experienced/knowledgeable coaches.
Between the two sessions there will be a Female Athlete/Coach panel giving you the chance to hear about their experiences as well as educational, e.g. how to harness the power of female physiology to our advantage, barriers/challenges of coaching females and how to overcome them.
All registrations are to go to Mariah – mariahr@athletics.org.nz.