2023 Life Membership Awards and Service Awards
The following two deserved recipients where awarded Life Membership to Athletics Waikato Bay of Plenty at the AGM held Sunday 27th August – Heather O'Hagan  and Murray Green.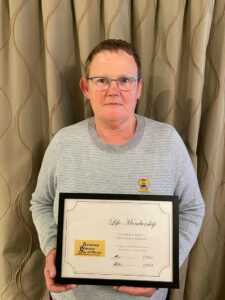 Heather O'Hagan – has been involved in athletics for over 30 years starting with Paeroa Athletic Club in the early 1990's.  Her service has included over 20 years at a high level as Officials Coordinator, Officials Educator, 15 years as meeting manager plus being part of the Athletics NZ Advisory Group.  Heather has officiated at numerous Colgate Games and Ribbon Days.  In  2017 at the Hauraki/Thames Coromandel Sport Waikato awards she was awarded Official of the Year  and Service to Sport in 2019.  Heather has now stepped down from all officiating and roles she has held, leaving a huge gap not only for our Centre but also Athletics NZ.  We thank you Heather for your time and tireless input into our sport.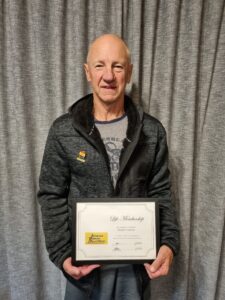 Murray Green – has been AWBOP Chairman/President, is a Coach, Team Manager and offers Club and Centre leadership of the highest quality.  Murray has been involved since mid-1990's starting with Morrinsville, then moving to Te Awamutu in 1998 got involved as a parent helper, then in 2000 became Treasurer, and after a few years President.  This led him to involvement at Children's Committee Meetings and then WAIBOP Track & Field and Management meetings. He was President for 8 years and relinquished the role when he became Chairman of AWBOP in 2014.  Murray remained Chairman until the transition from a Management Committee to a Board structure in 2020 where he became President under this new structure. Murray's coaching started in 2001 and continues to this day.  He is still an active Masters athlete both in winter and summer and over the past few seasons has found himself in the announcers box at, Waikato/BOP Sec Schools and regional events, Porritt Classic and many other events.  He organises the Te Awamutu Golf Club Fun Run.  A superstar of our sport!
SERVICE AWARDS
The following were awarded Service Awards for their service to athletics for over 15 years. 
Graham Dudfield  –  Hamilton City Hawks
Noel Bennett   –  Taupo Harrier Club
Fay Smith  –  Athletics Tauranga
Kevin Bradley  –  Hamilton City Hawks